Bay Area Workers' Comp Attorney
Injured in the workplace?
The Law Offices of Nooshin Dalili has dedicated hardworking Workers Compensation Lawyers in California who will fight for your rights. Workers Compensation Law is a very complex area of Law. Our highly skilled San Jose Workers Compensation Lawyers will handle all aspects of your case from the beginning to the end.
We will help you file a claim and represent you at all California Workers Compensation hearings. The Law Offices of Nooshin Dalili will consistently fight for your rights to obtain the best possible resolution of your San Jose Compensation Case at all times. We have help Californians in construction site injuries, slip and falls, back and neck injuries, leg, shoulder, repetitive stress claims, hands and elbow injuries, vision, and hearing impairments.
Work Place injuries occur every day in San Jose, California. Our seasoned San Jose Workers Compensation attorneys will help San Jose workers choose a doctor. Your doctor is required to submit reports to the San Jose Workers Compensation Board, your employer, and your employer's Workers' Compensation insurance company. The doctor's report should contain a history of the work accident, a diagnosis, a statement that the injury was a result of the accident at work, and your disability status.
Do not take the risk of handling your San Jose Workers Compensation case on your own. Insurance Companies have their own San Jose Workers Compensation Attorneys protecting their interest. Let the Law Offices of Nooshin Dalili protect your rights. Call us for a free consultation now at (408) 288-8686.
San Jose Workers Comp Attorney
Do I need a Workers Comp Lawyer?
When someone is injured on the job or suffers from an illness or disability resulting from their work duties they are entitled to receive their medical care and/or disability through the workers' compensation insurance provided by their employer. Because it is a "no-fault" insurance plan, the employee does not need to file a suit and their medical bills are simply paid until they are able to return to work. It is possible that your claim could be "questioned", delayed or even denied by the insurance company's claims adjuster because of some minor omission in your filing or some other reason. If you have been injured or disabled on the job you should consult with an experienced San Jose workers comp attorney at Law Offices of Nooshin Dalili to find out how we can help you get the coverage you deserve.
Insurance companies are still motivated by profit and even though workers' comp is a state mandated program, they will and do look for any reason to pay out as little as possible in claims. We can help you because we understand how insurance companies work and know what needs to be done to get your claim approved.
Even if you have already filed your claim and are already receiving medical treatment, it is possible your claim will be modified, delayed or even denied, leaving you with the medical bills and no reimbursement for your lost time at work. If your claims adjuster offers you a reduced settlement or if your doctors decide you need additional care beyond your initial treatment you should contact us for help. To protect your rights and have an experienced and skilled attorney on your side, call us for a free, no-obligation case evaluation before you file or if you are having any difficulties with your claim.
Contact San Jose Workers' Comp Lawyer to learn
how we can help get you the settlement you deserve.
Let us help you to get what you are entitled to.
No one ever expects to sustain a serious injury or a life-threatening illness due to work-related duties. But with millions of employed Americans in every type of sector, industry, or profession imaginable, it comes as no surprise that thousands of workers across the nation are injured while at work.
Though accidents are frequent, this does not mean that you should suffer the financial or medical repercussions of a work-related accident. Workers' compensation is a no-fault system of insurance that provides financial assistance for things like medical bills, lost wages, and more.
Call (408) 288-8686 to Request a Free Consultation
If you are in need of assistance in filing a claim, appealing a claim, or applying for disability, we can be of assistance. As a former insurance company defense attorney, Nooshin Dalili has successfully tried and litigated cases against California's largest employers and insurers.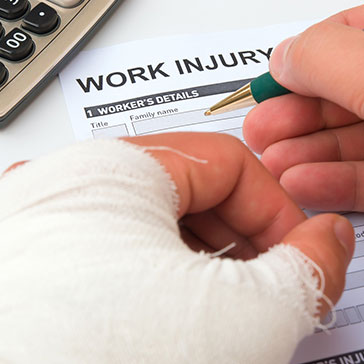 San Jose Workers Compensation Lawyer
Get a Diligent, Aggressive, Determined and Intelligent Workers Comp Attorney.
The Law Offices of Nooshin Dalili believes that injured workers in San Jose should not suffer. San Jose Workers Compensation insurance provides cash benefits and medical treatment for workers who are injured or become ill as a result of their job. You must report the San Jose injury preferably in writing to your San Jose employer immediately or within 30 days.
If you are struggling with a work related illness or injured in a construction site accident, or developed asbestosis or work related cancer, the Workers Compensation Attorneys at the Law Offices of Nooshin Dalili, will fight for your rights and provide you with crucial details that may expedite your San Jose workers compensation case. For example, if you were examined by an insurance company doctor, it may be that his report indicates that you have a partial disability or no disability. This can change your weekly payment. However, the Workers Compensation Law Judge makes the final decision on the weekly rate of compensation. When you contact the Law Offices of Nooshin Dalili our San Jose attorneys will leave no details out about the Workers Compensation Law.

Call us now at (408) 288-8686 and learn more about San Jose Workers Compensation Law.
write us or contact us on our social media